How Much Will My Timeshare Maintenance Fees Be This Year?
History has shown that most timeshare owners can count on their timeshare maintenance fees rising year over year. This can be highly stressful for owners, as they ask themselves, "How much will it increase this year?"
A recent timeshare industry study showed that 66% of owners who are looking to eliminate their timeshare ownership want to do so due to the cost of their maintenance fees, which have been increasing at a rate that exceeds inflation with no signs of slowing down. In 2005, the average maintenance fee was $471 per year for a once week internval. Ten years later, in 2015, the average maintenance fee had nearly doubled to $920 per year. That's a shocking 95% increase in a single decade (see the chart below).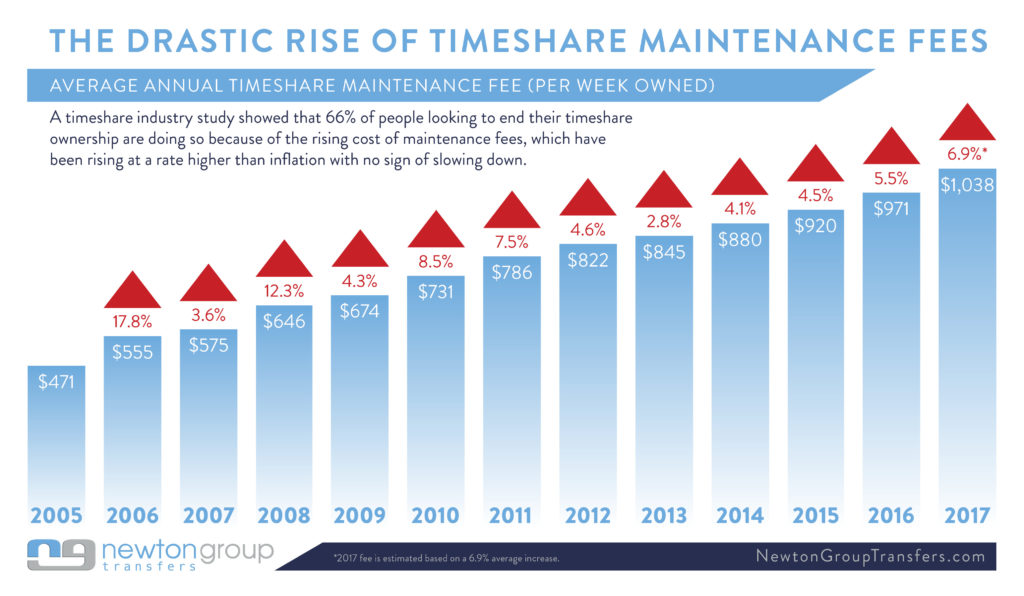 * 2017 Maintenance Fee is Projected Based on an Average Annual Increase of 6.9%
What if I Don't Agree With The Amount Of My Maintenance Fee Bill?
Unfortunately for timeshare owners, the maintenance fee amount is also out of their control. They must pay, even if they don't agree with the amount set. In most cases, the resort association that is governed by the board and/or the management company typically establishes the amount. Their determination on the amount invoiced is not wholly based on resort maintenance; resort organizations use these fees to cover various expenses in addition to maintaining and improving the property, including budgetary concerns and payroll, among others.
What Happens If I Don't Pay My Timeshare Maintenance Fees?
Timeshare owners are required to pay their maintenance fees throughout the lifespan of their timeshare ownership, and these contracts are often written in perpetuity. If for some reason you decide to cease paying your maintenance fees and effectively default on your timeshare obligation, your resort can (and likely will) initiate collection efforts. In addition to significantly impairing your credit score, failure to pay could result in legal action if the resort developer decides to pursue collection to the fullest extent.
What Can Be Done To End My Timeshare Maintenance Fees?
Many timeshare owners struggle to sell or even give away their timeshares. Ultimately, they end up turning to a timeshare exit company such as Newton Group Transfers to help them end their timeshare ownership. At Newton Group Transfers, we have successfully helped thousands of timeshare owners exit their timeshares for more than a decade. We would love to speak with you about your situation and learn how we can help you. We offer guarantees that are unmatched in the industry and we put our skin in the game to give you added peace of mind.
If you are ready to STOP maintenance fees, special assessments and taxes today, give us a call at 877-354-4321 or fill out the form above and one of our Consumer Advisers will contact you.