Ready to end your timeshare ownership?
Get Your Questions Answered by the
Company That Wrote The Consumer's
Guide to Timeshare Exit.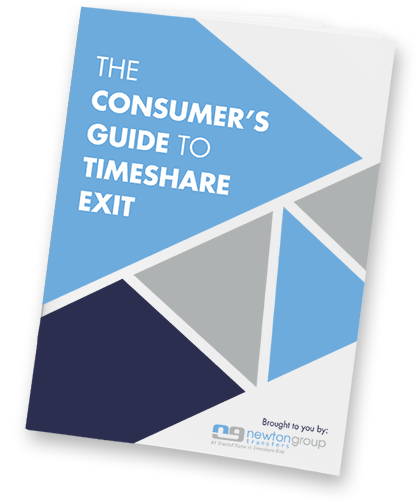 Experienced Consultation Is Key...
Talk To An Expert Today!
Why Do Timeshare Owners Choose Newton Group Transfers?
We Have A 14 Year Track Record of Success
Our 100% Money Back Guarantee
Our Unmatched Financial Commitment Guarantee
We Have Earned & Maintained an A+ Rating with the Better Business Bureau
Customers Have Rated Us at 4.93 stars (out of 5) at the Better Business Bureau
We Have Helped Thousands of Timeshare Owners Just Like You!
We Wrote The Consumer's Guide to Timeshare Exit
We Offer Both a Timeshare Transfer Exit Solution and a Timeshare Attorney Exit Solution
Jane G.
"I was so skeptical at trusting another company to help me get rid of my timeshare but after talking to a previous Newton Group customer I decided to go forward with them. I am so thankful I did. This is a legitimate business among many scammers. My particular transfer took longer than expected but they kept me informed through personal phone calls throughout the process. I was billed for a maintenance fee from my timeshare company during the process but Newton had me send them the bill and I owed nothing! If you are looking to rid yourself of your timeshare, I urge you to work with Newton Group Transfer. The only thing I regret is that I didn't contact them years ago."
Terri A.
"After wasting money on several other companies first, I finally found out about Newton Group and they got the job done. Whatever I paid them ended up paying for itself with the money I now save on annual fees, taxes, maintenance, etc. "
About the Founder
- Gordon Newton -
Gordon Newton is a timeshare exit industry expert, and the author of
The Consumers Guide to Timeshare Exit
. As President of Newton Group Transfers, he has helped build his company into the #1 Trusted Name in Timeshare Exit. Newton Group Transfers has helped thousands of timeshare owners successfully exit their timeshares for over a decade, and has maintained an A+ rating with the Better Business Bureau during this time. Mr. Newton operates his company with a strong sense of integrity, which is why he places a 100% money-back guarantee - backed by a financial commitment guarantee - in writing on every contract.